Music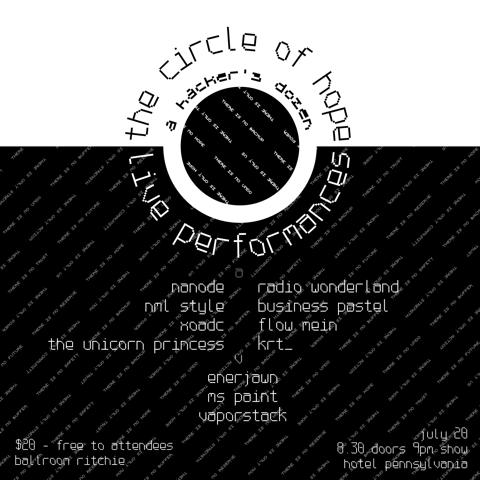 poster art by vaporstack
Concerts at The Circle of HOPE!
Game Boys, theremin, radio, modular synths and more at The Circle of HOPE Music Concert!
Join us for one night of music, sound and visual art on the opening night of the conference.
This show is open to the general public and FREE of charge to HOPE badgeholders.
DATE: July 20, 2018 - Friday
DOORS: 8:30pm SHOW: 9:00pm
LOCATION: Hotel Pennsylvania, NYC 401 7th Avenue New York, NY 10001
SPACE: Globetrotter Ballroom (AKA RITCHIE) - ground floor
ADMISSION: $20 ; HOPE Attendees - free of charge
ALL AGES
SHOW ORDER:
krt_ / vaporstack
xoadc
The Unicorn Princess / Ms. Paint
business pastel / Enerjawn
flow mein / Enerjawn
nanode / Ms. Paint
nmlstyl / vaporstack
RADIO WONDERLAND
MUSICIANS:
krt_
Armed w/only Game Boys, synths & a Nintendo DS. She doesn't label herself in any genre except for whatever music pops in her head in the middle of her ADHD crisis. https://kurtunderscore.bandcamp.com/
Business Pastel
Business Pastel is the solo project of Billy Murphy from Long Island, NY. Billy pulls from numerous styles of music, to better capture the complex feelings that come with growing up. http://soundcloud.com/businesspastel
The Unicorn Princess
The Unicorn Princess is an electronic artist creating downtempo lo-fi beats through samplers, analog synthesizers, guitar, flute, and voice. http://www.theunicornprincess.com/
xoadc
xoadc conjurs the ghosts of radio towers with theremin antennae. In Requiem for Radio: Pulse Decay, she summons images and contact mic recordings of the recently demolished Radio Canada International shortwave towers themselves. xoadc is a solo project by Montreal based artist, Amanda Dawn Christie. http://www.amandadawnchristie.ca/requiem-for-radio/
flow mein
Brooklyn-native flow mein has been cultivating his style of feel-good chip music around the east coast for the past 3 years. He draws his influence from house, hip hop, and electro-pop, and uses a set of DMG Game Boys as the medium to express himself. http://soundcloud.com/flow-mein
nanode
Sam Sher AKA nanode is a lo-fi EDM producer who works in various genres using LSDJ, Famitracker, Nanoloop and Ableton Live. http://nanodemusic.com/
nmlstyl
joey, a.k.a nmlstyl (pronounced "animal style"), is a philadelphia based visual artist, coder and hacker musician who is known for pioneering the squarewave synth guitar sound. http://nmlstyl.com
RADIO WONDERLAND
RADIO WONDERLAND turns a live FM radio feed into recombinant funk, all controlled by an actual steering wheel, old shoes, and laptop--live. From NYC composer Joshua Fried. http://radiowonderland.org/
VISUALISTS:
Enerjawn
Equipped with long forgotten equipment from years past, Enerjawn focuses on painting live visuals with the use of optical feedback and light. https://www.facebook.com/Enerjawn/
Ms. Paint
Ms. Paint is a programmer and artist from Brooklyn who loves 80s horror, fog machines, magical girls, neon lights, and anything glitchy & cute. http://rachelisaweso.me/
vaporstack
vaporstack is a classically trained, brooklyn based artist and developer with a focus on procedurally generated realtime graphics. weapons of choice: 68k macs, robotics, watercolor, graphite. http://vaporstack.org/